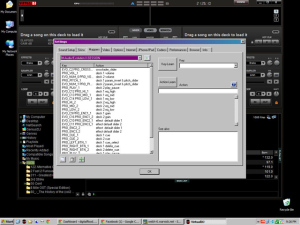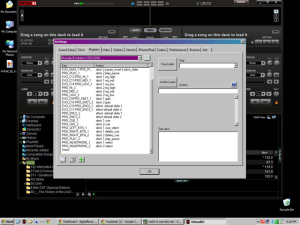 I'm a huge fan of the M-Audio X-Session Pro MIDI controller that emulates all the core functions of a traditional two channel DJ mixer. The controller retails at most stores and online for around $99 brand new, which is a great deal considering its linear feeling sliders and tactile feeling pot knobs. You really feel like you have a good quality product in your hands for a really cheap price. Don't get me wrong, there are better mixers with more options; but bang for your buck it's a great controller for both beginners and as a back up unit "just in case" for the pros. I especially enjoy the low friction cross fader that's perfect when matched with time coded vinyl like the Rane CV02 digital vinyl. My big complaint comes from how the controller integrates into most digital DJ software including my all time favorite virtual turntable software package, Atomix Virtual DJ. I've been using Virtual DJ since release version 3 and each release I had to manually recode the MIDI control map for the X-Session Pro.
In short, because M-Audio bought the rights to the controller from Evolution and didn't do any further work on mappings while continuing to tweak the hardware, there is a true and literal disconnect between the controller surface and the on screen functions. Even the latest version of Virtual DJ (7.0.2) doesn't fix this issue. That's the bad news; the good news is if you go into the configuration area of Virtual DJ on the controller tab with your X-Session plugged in you can "teach" Virtual DJ the right keys and fix the issue thus allowing you to enjoy using the X-Session like it was meant to be used.
Simply click on each listed map function and then click the trash icon below to remove the "broken" mappings. Once all the key mappings are remove from the map click the new icon (a big green plus sign) on the screen. You then click the Key-Learn button on the screen and turn the appropriate knob you wish to program on the X-Session. Then in the Action-Learn area type in your function you need that knob to do. You'll find two images above in this post that show you how I map my X-Session MIDI functions in Virtual DJ. This map is simple, effective, and very easy to use for most DJ styles. I think you'll find it as a good fit for your DJ rig as well. I hope this saves you a lot of time and effort because I looked all over: NOBODY has this info posted so I figured I should get it up there. Happy mixing my friends!