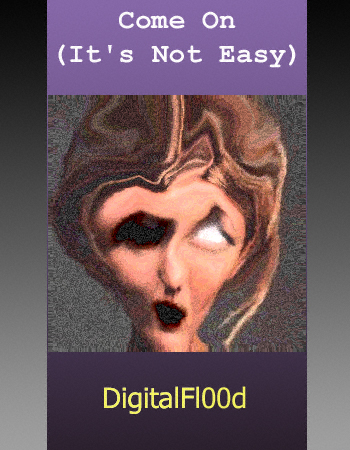 "Knowledge is power." -Francis Bacon
"To see things in the seed, that is genius." -Lao-tzu
"Imagination is more important than knowledge, for knowledge is limited while imagination embraces the entire world." -Albert Einstein
"Real knowledge is to know the extent of one's ignorance." -Confucious
"All the world would be Christian if they were taught the pure Gospel of Christ!" -Thomas Jefferson
---
---
Album Music Credits: All songs were originally written, composed, compiled, and performed by DigitalFl00d. DigitalFl00d is flAnnelmAn, a computer, some music creation software, several guitars, lots of samples, a couple of effects pedal, a drum machine, and some half-ass opinions.Album Art Credits: The title graphic above was enhanced and typeset by flAnnelmAn using Photoshop 5. The main photo originally was a picture of Cameron Diaz. Now it is just scary.
Thank you to: My very supportive family (Especially my daughter- Gette, flAnnelm0m, and my sister- Mary) and my two crazy cats. As always crew shout-outs to: Daemon Immortalis, Mermaid, Rock (and his server Jeph.net), V The Slow Girl, the Andre siblings, Morning Glory, BrokenReality, Angela Incendium, c0il, and the approximately other hundred people on my Links Page. Sorry to anyone I forgot to list, but stuff happens (Doh!). As always: God I owe you one; add it to my tab.
Contact us via e-mail: flannelman@digitalflood.com
To touch, to kiss, to feel.
---
About This Album
"Come On (It's Not Easy)" started recording shortly after the "Drowns" EP's release in 1999, but final recording concluded in early 2003. Final production lasted into mid-2003 and almost was never completed as this was the time Chris Welch's first marriage came to end. The "Anyone But Me" single originally was to appear in this EP, but it was decided in late 2003 that this EP would be released as is and "Anyone But Me" would be a follow up piece to this album. Production quality over the "Stillborn" Single was significant improved not only when in compared to that album itself, but overall for its time even when compared professionally produced albums. All work was down independently of professional recording facilities in Chris Welch's apartment using only a Dell PC running Windows XP and various pieces of software. Chris Welch began experimenting with various audio production suites and this album ran the gambit of three very different applications.
As he had in the past, Chris used Acid Pro and Sound Forge (then built by Sonic Foundry and now owned by Sony Multimedia) to create all the tracks on the album with the exception of "Come On (It's Not Easy)" itself. That track was created using only loop files during a live virtual DJ session using the program Mixman Studio. This was the first time Chris ever composed using live DJ software, but it would not be the last. He would instantly fall in love with the concept and begin researching live sampled song composition. This work would ultimately culminate in style and technique in later years as the mixtape sessions heard on "digitalflood Pirate Radio" regularly today.
The album itself is a short story based around the concept of falling in love, falling apart in that relationship, and starting over with someone else. Ironically this concept was built well before Chris's personal life took a turn for the worst and maybe even more ironically during it's concluding production Chris Welch was not with anyone at all. Instead he found himself alone and starting over. The album story itself thus is a complete work of fiction based on the broad concept of the love story.
Now six years old, the album still sounds as fresh and new as the day it was recorded. Today many other artists have migrated to the sounds and techniques used on this album years after its release. "Come On" was way before there was a Linkin Park single on the radio and even more way before the concept of the DJ was accepted as a reputable musical art genre. For that reason alone this album stands as a hallmark in Chris's musical career and a definitive turning point in his growth as a musician.
Cliffnotes
Chris Welch continued to experiment with childrens' toys including various talking dolls, toy instruments, and stuffed animals. He also sampled multiple live organic sources for sounds including organic sounds around his apartment such as the chirping of his pet finches and meowing of cats.

All drum loops using drum machines were recorded in real time using analog output. This gives the drum samples a more organic "real" drumming feel. This concept is well accepted today, but leading edge for its time.

"Something Brittle" aside from the vocals is 100% built on royalty free samples found on the Net.

"A Call to Arms" relied on heavy modification of voices and natural sounds to produce music textures within music production software. Again, this concept is well accepted/used today, but leading edge for its time.

"To Touch" is 95% samples recorded in analog in real time using natural and digital sources. Modification of sound is minimal. Vocals are rough and a precursor to vintage-like vocal recording techniques used on "Anyone But Me" later that year.

"Something Brittle" was recorded while Chris Welch had severe laryngitis. The result is Chris's voice at the time of recording was naturally two octaves lower than normal and gave his tone a slow droned out sound similar later on to those used on "Chopped & Screwed" albums.

All vocal sessions were done in one take and minimally altered in tone. Otherwise, they are nearly identical to how they sounded while being recorded. Long before Jay Z was dissing auto tune, Chris was making his case song by song to make sure vocals were authenticate to their live sound including any imperfections.