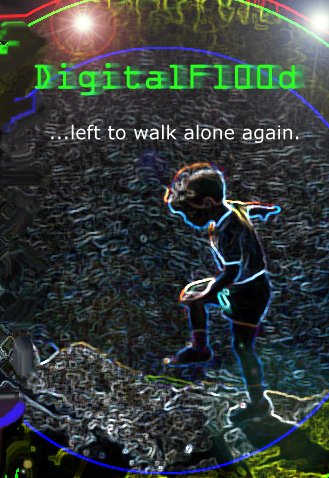 Tracks:
1. Still Born
2. Still Born (instrumental)
3. Mother's Nature
Note: To save the above MP3 files to disk simply right click once on the track's link and left click on "Save Target As…". When prompted to "Save" click on the button to do so once you've selected the destination directory on your hard drive.
Credits: DigitalFl00d is flAnnelmAn, a computer, a guitar, some samples, and an Effect Pedal. flAnnelmAn is Chris Welch. Chris Welch is married 🙂
All Songs written, created, and manipulated by C. Welch
Songs contain free domain samples available on the CD-ROM Acid Music by Sonic Foundry Software(c)
Thanks to All my family, friends, and supporters. Special thanks to my loving and supportive wife, Melissa, who I will love always with all my heart and soul 🙂 Greets to Daemon Immortalis, c0il, Mervernation, Mikista, all the crew at jeph.net, Red Raven, Gundam, Flying Moose, Joe_Ban, Kevin, the WOL crew, my incredible dog Brittany the WonderPup, The West Milford Diner (mmmm... coffee keep me up to write and good), and anyone else who I forgot who probably hates me cause I didn't put there freaking name here and feels I owe them the world... you too 🙂 Oh yeah and that God person.
Contact: Contact Us
---